Client Story

Mutual Benefit Group CX Solution



Mutual Benefit Group was looking to improve its claim process by being able to better connect with its policyholders and keep them informed at every point of the journey. MBG, which uses the Duck Creek OnDemand claims platform, first sought out SPLICE Software in October 2022 to leverage its automated communication workflows, which are integrated with the claims platform through SPLICE's partnership with Duck Creek Technologies.
Objectives:
• Enhance the customer experience with personalized text messaging throughout the claims process
• Help employees utilize time spend more efficiently
• Lead more strategic communication programs by boosting customer engagement throughout the claims process
"MBG is dedicated to creating an insurance experience that benefits our customers..." "A claim is the moment of truth for any insurance policy. This innovative communication solution allows us to meet our customers where they are and keep them fully informed throughout the entire claim process. We are very excited to be able to offer this communication channel option to our customers, and further enhance the MBG Experience."
-Shannon Davis, AVP Claims, MBG.




SPLICE Solution
MBG is committed to enhancing the customer experience, engaging policyholders throughout the customer journey and creating a strategic communications program. Now with SPLICE's automated text messaging, consent collection and Thrive/NPS survey services, MBG can deliver the value it wants to its policyholders while also ensuring loyalty.
SPLICE empowered MBG with an automated solution that enables the company to collect and manage customer consent for automated messaging and send personalized text messages to those who opt-in or who are opted-in. After MBG integrated SPLICE automated text messaging into the claims platform communication workflow, the company was able to personalize messages to policyholders at 13 separate touchpoints/use cases during claims processing. The automated messages are based on claim triggers and also have a dashboard that allows the adjuster to manually trigger a particular message if needed. These personalized, conversational text messages kept policyholders informed and engaged, which enhanced the policyholder experience and elevated customer satisfaction levels.
SPLICE is responsive, energetic, professional; making these 2 projects fun and a successful! They are very knowledgeable and kept me informed throughout the process. There were no surprises in either implementation, and that is invaluable.
-Shannon Davis, AVP Claims, MBG.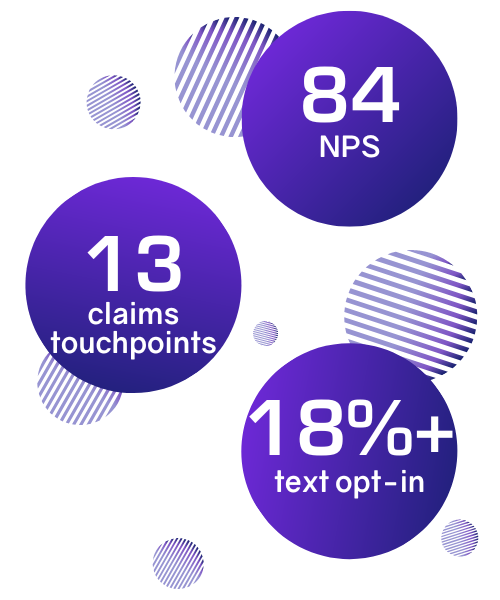 Implementation
With automated opt-in and opt-out management tools that seamlessly collect and track policyholder status, SPLICE also provided MBG with an easy way to respect customer communication preferences and simplify compliance with consumer privacy regulations across jurisdictions.

Based on the success of the first program, MBG integrated a second SPLICE solution just six months later. Thrive™, a survey and Net Promoter Score (NPS) application offered by SPLICE, now allows MBG policyholders to provide feedback on the claims process and their experience with MBG. Weekly surveys are sent out via text or email to policyholders who had auto or property claims closed the week prior. The applications give policyholders a chance to provide feedback using the channel of their choice while the reporting from the THRIVE dashboard allows MBG to capture the results and filter by adjuster, line of business, etc. This enables MBG to utilize best practices and generate reports that produce granular insights the organization can use to identify pain points and continuously improve the customer experience. Since MBG is now able to hear from more customers, the company can more broadly improve the customer experience.

These applications also empower MBG to create their own tags and report on them in real time. MBG tags responses by adjuster and claim type, and having real-time, tag-based dashboards and reports allows the company to drill down on the most important metrics in a single click. By categorizing the NPS information into meaningful subsets, NPS is more actionable and impactful than ever.

For example, when MBG received its first detractor from the surveys, the customer service team was able to immediately follow up with this customer to see what could have been done better during the claims process. The customer was pleasantly surprised by the follow-up and appreciated both the ability to provide feedback and the response to his survey submission.


Company Profile
Mutual Benefit Group (MBG) has provided insurance coverage for automobiles, homes and businesses through the independent agent channel since 1908. MBG works diligently every day to help build and protect policyholders' economic well-being and provide for their security. As a result, MBG is known for strong relationships with policyholders and agents. The company is also known for its responsiveness, its friendly, knowledgeable staff and for a claims service that consistently garners stellar customer satisfaction scores; MBG achieved a 97.5% positive rating based on 2022 policyholder surveys.