 Wildfire Precaution Program

Be prepared. Be informed. Be safe.
Notify Your Policyholders

Build trust with your policyholders by keeping them informed in times of uncertainty.


Send proactive alerts to potential at-risk policyholders

Reminders to follow any evacuation orders

Inform on precautions to reduce exposure to damage

Ensure alternative contact information is up-to-date

Send notifications/updates on claim times and processes




What is a Wildfire Precaution Program?
Help policyholders in critical areas prepare for the threat of active wildfires by implementing a Wildfire Precaution Program.
Allow your policyholders to opt-in to safety call outs, that will notify eligible policyholders of if and when they should prepare for impending wildfires.
Proactively notify your policyholders of impending wildfires:


Send reminders and preparation notices prior to the wildfire season by geographic region


Send notifications of any prevention tips or services


Update policyholders of expectations or changes to processes


Send information for resources and next steps if a wildfire affects them
Inform your policyholders of any existing Wildfire Programs within your company:


Notify them what the service is and how they can enroll in the program


Send enrollment options for the program through multiple communication channels


Ensure the policyholder has convenient methods to register their confirmation to the program
Keep policyholders updated with the Wildfire Programs:


Send notification updates to policyholders with contractor appointments


Send pre- and post- wildfire notices to set expectations and let your policyholders know you care


Get feedback with automated surveys on your Program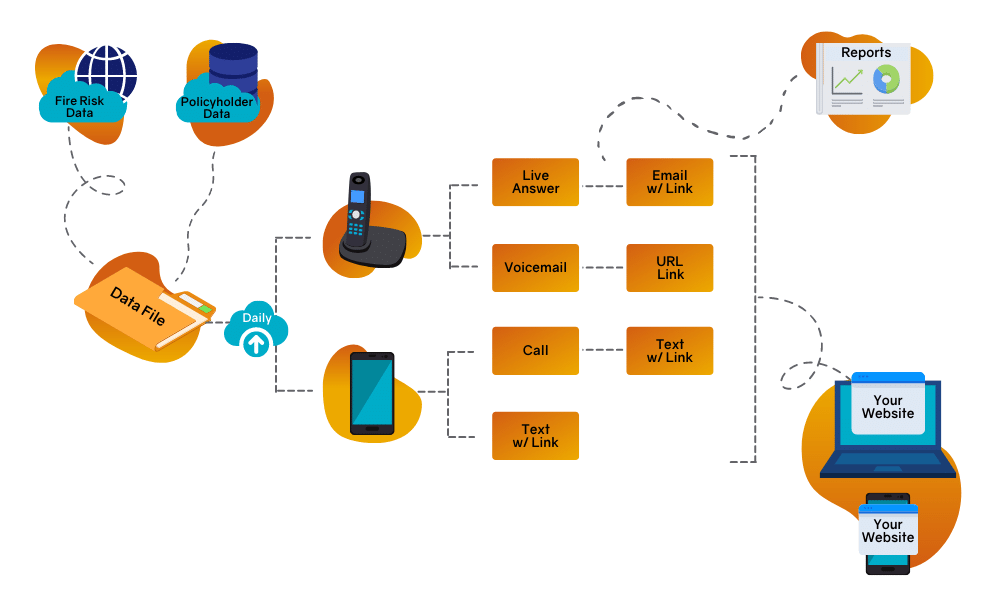 Follow-up Notifications
SPLICE also offers follow-up notifications to help inform policyholders who have been affected by wildfire what the next steps are. These notifications can include:

Policyholder coverage information


How to file a claim


Time estimations for claims follow-ups


Where to find out more information