Customer Experience Automation Using SPLICE TalkTM
Executive Brief
Track key insurance & claims metrics like: contact times, cycle times, and CSAT/NPS scores
Get up and running quickly with our message templates or create your own
Pull in policy and claims data to each conversation
Integrate your existing automated FNOL, claims, or late-payment reminder workflows or let us do it for you
Streamline your claims process with full photo submission capabilities
Full Spanish, French, and English language support to take care of ALL your customers
Internal notifications keep your teams up-to-date on new conversations and updates to existing files
Bring your data together using APIs to enable transactions, user authentications, and personalized customer engagements
Be There For Your Customers Anytime, All The Time With Two-Way Text & Chat!
Customers want a great experience. The pressure is on for companies to provide a personalized, rich, automated, and seamless journey. A journey that's so frictionless, it's like there is a completely informed and caring individual on the other side the whole time.

With SPLICE TalkTM you can meet your customers where they are — on their mobile device. Your customers want to text you and the TalkTM platform will get you there. Intelligent and customizable AI auto-responses allow you to automate commonly asked questions or support items, so your customers are taken care of. The best part? You can use either your long-code or your short-code — giving you the flexibility you need to provide a fully automated customer experience.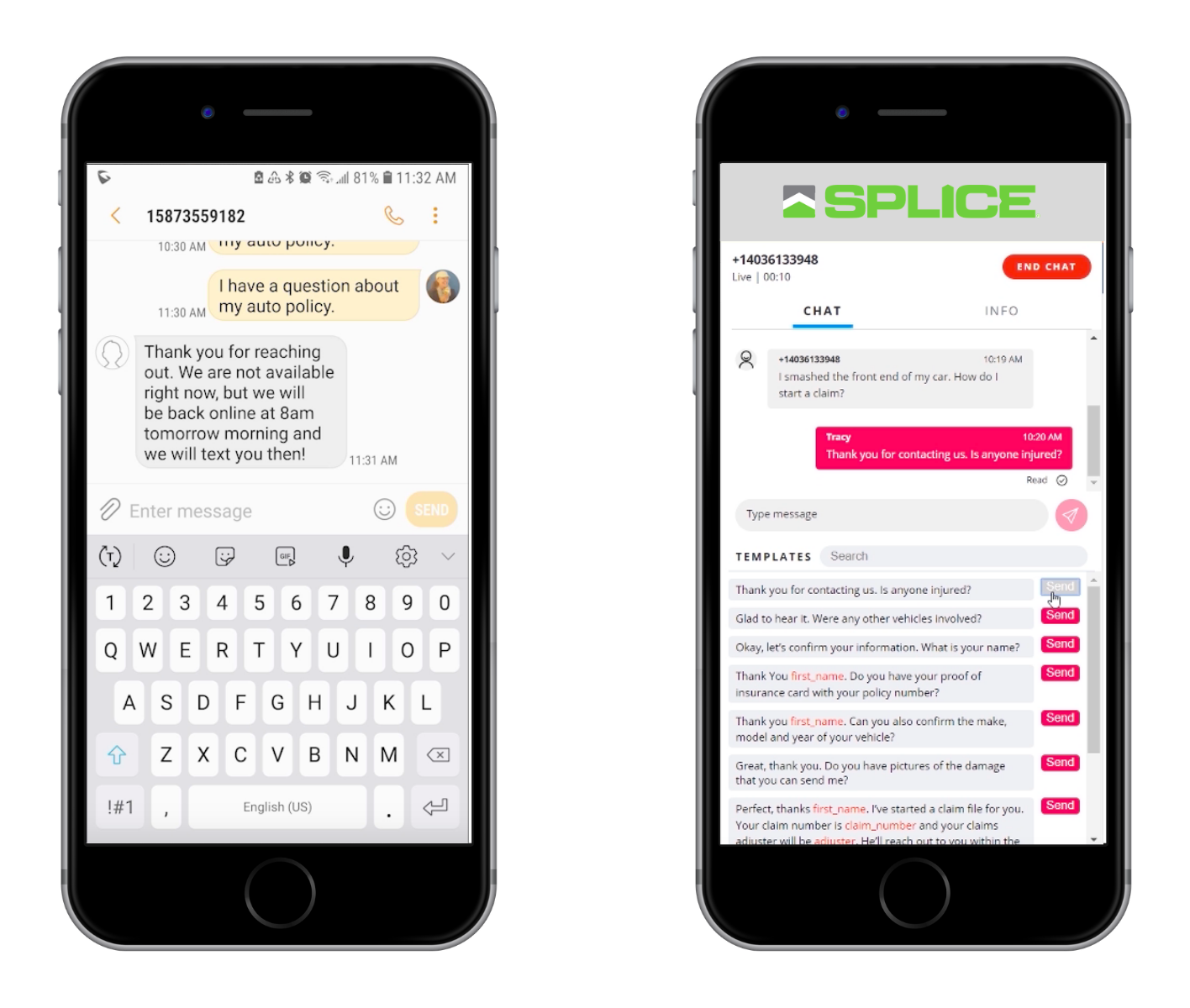 Go One Step Further And Enable Conversational AI Across Text, Web, WhatsApp, and Facebook Messenger

SPLICE Talk+TM is an end-to-end conversational AI solution that combines all of the essential elements you need to become conversationally capable 24/7. Talk+TM allows you to take the conversation one step further. Deploy conversational AI across all of the commonly used mobile channels:

Do your customers require hands-on support? Talk+TM provides full context and customer history to agents to better predict, diagnose, and solve problems.

Backed by accessible data and insights, SPLICE TalkTM and Talk+TM emphasize personalization, tone, and quality content. This means your customers receive an on-demand customer experience — even while your team is sleeping.

Being offline isn't an option. Your customers deserve a seamless experience, every time. Discover the benefits of SPLICE TalkTM and Talk+TM and reap the rewards of providing your customers an on- demand experience.